Myths and Truths about the Idaho Minimum Wage
Myth: Minimum Wage is for Teenagers in Entry-Level Jobs
The typical low-wage worker is not who you probably think it is. Teenager? No. Part-time worker?  No, again. High school dropout? Nope. The Economic Policy Institute sheds light on the reality of Idaho's workers: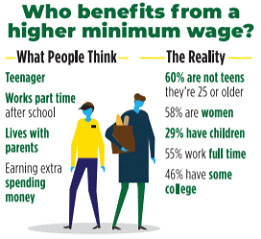 Myth: Nobody Pays Minimum Wage Anymore
The signs are everywhere: "Hiring – "$13/hour", "Pay starts at $14/hour". Surely that means the market doesn't require a new minimum wage! Sadly, that is not the case in Idaho. A May 2021 Idaho Department of Labor report describes the reality: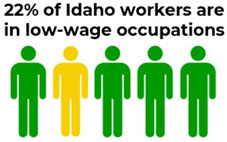 There are more than 160,000 workers in low-paying jobs. Over one-in-five hourly employees! Retail salespersons, janitors and cleaners, cooks, cashiers, and home health and personal care aids are among the largest categories of occupations with wages that are simply too low.
Myth: A Higher Minimum Wage Initiative Cannot Pass in Idaho
Some people say "This will never pass in Idaho" and then say "I hope I am wrong." Polling says: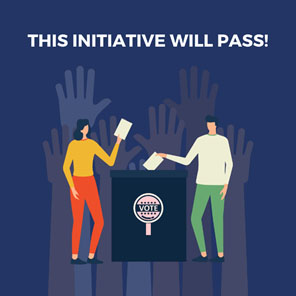 A politically-balanced survey of Idahoans throughout the state shows 62% of respondents support increasing the minimum wage to $13. Why such high support?
The cost of groceries, housing and basics have gone up for years, but the minimum wage hasn't increased in Idaho in 12 years
Idahoans don't want the federal government telling us what to do. (Idaho's standard minimum wage is the same as the federal minimum wage)
Idahoans are Overdue for a Raise
• Minimum wage has been $7.25 / hr since 2009.
• 1 in 7 Idahoans who have jobs live in poverty meaning that many Idaho families are struggling to meet basic needs. People are unable to find homes due to rent and housing prices.
• Taxpayers subsidize the employees of companies that pay low wages.
• Minimum wage is NOT a fair wage for anyone!
37% of hourly workers in Idaho earn less than $14/hour.
25% of Idahoans in prime earning & saving years (25 to 54 yrs of age) earn less than $15 / hr.
41% of all women in Idaho earn less than $15 / hr.
• Higher wages are good for the economy
Low income workers spend their money, so a higher minimum wage creates a multiplier effect!
A higher minimum wage reduces the taxpayer's money spent on public assistance.