The Business of Higher Wages
Companies that pay workers higher than the minimum wage are very profitable. It is good for business.
Who's Already On Board?
These Idaho Employers are already paying workers more than the minimum wage. Why? Because it is good for business! They can get the best candidates who are more loyal workers and a more stable workforce.
Costco $16  / Feb 2021
Chobani $15 / Q1 2021
City of Hailey Employees $15 / Oct 2016
Idaho Central Credit Union $15 / Q1 2021
Amazon $15 / Nov 1 2018
Whole Foods $15 / Nov 1 2018
Target $15 / July 5, 2020
• Aetna $16 / April 2015
• Wells Fargo $15 / late 2017
• JP Morgan Chase $15 to $18 / early 2018
• Bank of America $17 / May 2019
• Best Buy $15 / Aug 2020
• Temporary Agricultural H-2A Workers
$14.55 / Feb 2021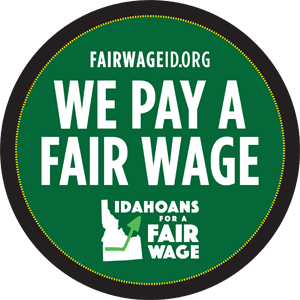 It's good business to invest in employees.
At Rediscovered Books, employees are valued and well-compensated. "One thing that keeps people coming back is our staff."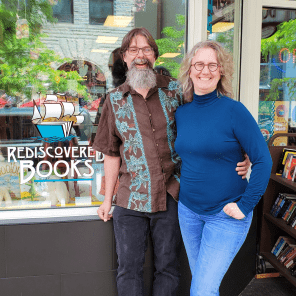 Read Rediscovered Books' Story ↓ ↓
Bruce and Laura DeLaney are deeply committed to their community and employees. They opened Rediscovered Books in 2006 to create a place where people could find books and conversation. The independent bookstore soon became a Boise institution, with readers gathering for author readings and other events, and to purchase books from the store's knowledgeable staff. Since then, the DeLaneys have expanded to Caldwell with a second Rediscovered Books outlet, and they also purchased a cozy secondhand bookstore on State Street called Once and Future Books.
The starting hourly wage for employees is $13, and the DeLaneys also provide health and vision insurance and paid vacation. The current hourly wage is a $2 increase from last year. While most of their 19 employees are full time, the 4 part-timers also receive some benefits and paid vacation. Over the past 15 years, DeLaneys have provided small increases each year, depending on what they can afford. "We are constantly looking at what is the best way to compensate our employees so they can make a career out of working in the bookstore," says Bruce.
For the DeLaneys, it's just good business sense to invest in what they describe as "a fantastic group of employees." Unlike some small businesses, they prefer to hire full time workers, who can give full attention to learning the finer points of customer service and becoming familiar with the store's ever-changing inventory.
Rediscovered Books faced challenges during the pandemic, but stayed open with curbside service and book deliveries. These days, the DeLaneys have fewer employees than they did prior to the pandemic, and have shortened their store hours. They decided not grow their staff for now so they can pay a better wage. "We want to reward those people who have worked very hard during a very trying time," Laura says.
Bookstores operate on what the DeLaneys describe as "an insanely tight margin." They have to be extremely careful with how they run everything. "There are no big management salaries here. Our floor and ceiling would not make a very comfortable house," Laura says with a laugh. But the DeLaneys didn't go into business to make big bucks. "If our goal was to line our own pockets, I'd still be at Micron, and Laura would make much more as a masters level teacher," Bruce says.
The enthusiasm the DeLaneys bring to bookselling is reflected in the welcoming atmosphere in their stores. Walk in the door, and hand curated book displays, announcements of upcoming events and many personal touches greet customers. Employees who feel valued and well-compensated are a big part of that vibe. "One thing that keeps people coming back is our staff," says Bruce.
Paying competitive wages to attract the right employees
At Campbell Company, "Employees come to work here and they never leave."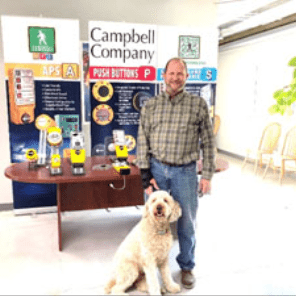 Read Campbell Company's Story ↓ ↓
Meet Phil Tate and his dog, Cindy. Phil is the owner and general manager of Campbell Company, a Boise business that designs and manufactures accessible pedestrian systems (APS).
Phil bought Campbell Company in May of 1998 and has taken it to be one of the top two companies providing pedestrian crossing systems in the US. Today, business is very good! In fact, orders placed in a recent week totaled more in sales than for the entire first year Phil owned the company.  "There are certain things that get to you; imagine that!", Tate muses.
Despite the laid-back appearance of this manufacturing environment, where you find dogs sitting at their owners' feet, amazing work is taking place. Raw materials come into the factory and are transformed into sophisticated APS solutions. A key element in the company's success is the approximately 60 dedicated employees.
Like any business, Campbell Company must pay competitive wages to attract the right employees. The skills required for these positions is significantly higher now than when Tate first bought the company. Many employees require electronics certificates, soldering certification, or have other critical skills to perform their job.  Entry-level positions start in the $13 range for a 60-day probationary period; after which they either get a raise or gone. The company's goal is to increase that to at least $15 by early 2022.
In addition to a competitive salary comes an attractive benefits package that includes health insurance, a 401K with employer match as well as paid time off. It's not surprising that Campbell Company has a loyal work force; many have been with the company for 15 to 20 years. Tate is proud to say "Employees come to work here and they never leave."
Tate recently implemented an Employee Stock Ownership Plan (ESOP) where employees will receive pension-like payments upon retirement as 65. Benefits start accruing after 1000 hours of work (approx. 6 months) with payouts based on salary and years of service. Phil's motivation to give his company to his employees is to ensure that the business he has worked so hard to build and grow carries on well into the future. Employees reaction to the ESOP has been favorable, and they will likely become even more positive as they approach retirement!
George Skandalos commits to giving his employees a decent hourly wage and benefits
"I feel like you should get paid equitably. As a business owner, you can only go out to eat so much, or buy so many cars or pairs of jeans," George says. "If instead that money goes back into the pocketbooks of the people who work for me, then it goes back into the economy."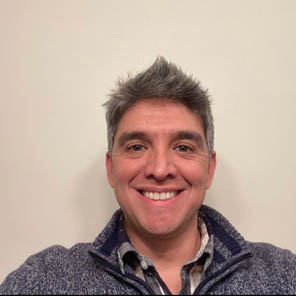 Read George's Story ↓ ↓
George Skandalos isn't your typical entrepreneur. The owner of two highly regarded restaurants, a popular bar and boutique hotel apartments in Moscow, Idaho, George knows well the challenges of navigating the pandemic and making ends meet. What makes him unusual is his commitment to giving his employees a decent hourly wage and benefits, and advocating for changes in the restaurant industry that would enable hospitality workers to have a sustainable life.
"I feel like you should get paid equitably. The income inequality we are seeing in this country is grotesque. As a business owner, you can only go out to eat so much, or buy so many cars or pairs of jeans," George says. "If instead that money goes back into the pocketbooks of the people who work for me, then it goes back into the economy."
At George's restaurants, Maialina Pizzeria Napoletana and Sangria Grill, employees earn at least $13.50 an hour after a probationary period, plus a $3 an hour federal pandemic supplement. Both full- and part-time workers at all four of his businesses receive paid sick leave and paid vacation that grows each year, plus health insurance where both the employer and employees contribute. Cleaning staff at his hotel start at $15 an hour, and most of his employees at the Garden Lounge make substantially more than that.
George has been able to pay higher wages because he has eliminated the gratuity system at his restaurants, where tipped employees make an adjusted minimum wage of $3.35 an hour plus tips. Instead, customers are informed that there is no need to tip because a 20 percent service charge will be added at the end of the meal. That service charge is then split equally among waitstaff, cooks, dishwashers and others.
While he got a small amount of pushback at first for the new tipless system, George says that most of his employees quickly saw its inherent fairness. A server who works a Monday lunch will make much less in tips that someone working Friday night – this way it's equalized and everyone in the restaurant can count on a steady income. The new system also eliminated the power imbalance between customer and server, since the server is no longer dependent on the customer's good graces to receive a tip.
George evaluates his wage rates pretty often. "It's really important to us," he says. And he sees an important role for the hospitality industry in the future. "If we have truly transitioned to a service economy and manufacturing in America goes the way of the dinosaurs, then we need to become the manufacturing jobs of tomorrow," he says. "We need to become the $20 an hour jobs, with benefits and retirement, jobs that have dignity."
Raising Wages Pays Dividends!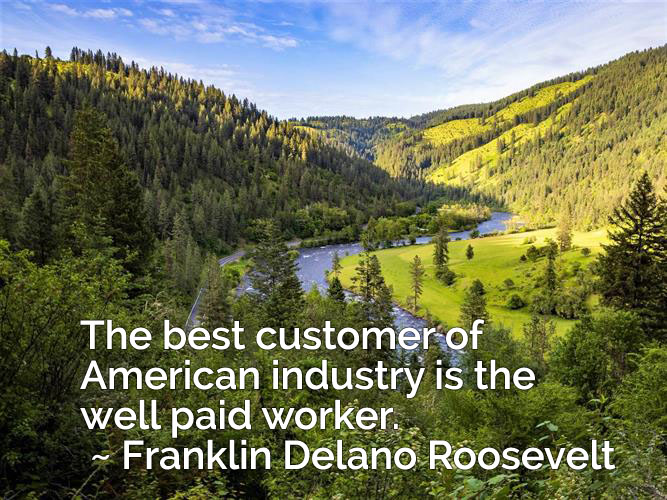 ~ as true today as it was then.