The Business of Higher Wages
Companies that pay workers higher than the minimum wage are very profitable. It is good for business.
Who's Already On Board?
These Idaho Employers are already paying workers more than the minimum wage. Why? Because it is good for business! They can get the best candidates who are more loyal workers and a more stable workforce.
Costco $16  / Feb 2021
Chobani $15 / Q1 2021
City of Hailey Employees $15 / Oct 2016
Idaho Central Credit Union $15 / Q1 2021
Amazon $15 / Nov 1 2018
Whole Foods $15 / Nov 1 2018
Target $15 / July 5, 2020
• Aetna $16 / April 2015 • Wells Fargo $15 / late 2017 • JP Morgan Chase $15 to $18 / early 2018 • Bank of America $17 / May 2019 • Best Buy $15 / Aug 2020 • Temporary Agricultural H-2A Workers $14.55 / Feb 2021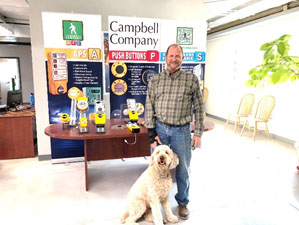 Meet Phil Tate and his dog, Cindy. Phil is the owner and general manager of Campbell Company, a Boise business that designs and manufactures accessible pedestrian systems (APS).
Phil bought Campbell Company in May of 1998 and has taken it to be one of the top two companies providing pedestrian crossing systems in the US. Today, business is very good! In fact, orders placed in a recent week totaled more in sales than for the entire first year Phil owned the company.  "There are certain things that get to you; imagine that!", Tate muses.
Despite the laid-back appearance of this manufacturing environment, where you find dogs sitting at their owners' feet, amazing work is taking place. Raw materials come into the factory and are transformed into sophisticated APS solutions. A key element in the company's success is the approximately 60 dedicated employees.
Like any business, Campbell Company must pay competitive wages to attract the right employees. The skills required for these positions is significantly higher now than when Tate first bought the company. Many employees require electronics certificates, soldering certification, or have other critical skills to perform their job.  Entry-level positions start in the $13 range for a 60-day probationary period; after which they either get a raise or gone. The company's goal is to increase that to at least $15 by early 2022.
In addition to a competitive salary comes an attractive benefits package that includes health insurance, a 401K with employer match as well as paid time off. It's not surprising that Campbell Company has a loyal work force; many have been with the company for 15 to 20 years. Tate is proud to say "Employees come to work here and they never leave."
Tate recently implemented an Employee Stock Ownership Plan (ESOP) where employees will receive pension-like payments upon retirement as 65. Benefits start accruing after 1000 hours of work (approx. 6 months) with payouts based on salary and years of service. Phil's motivation to give his company to his employees is to ensure that the business he has worked so hard to build and grow carries on well into the future. Employees reaction to the ESOP has been favorable, and they will likely become even more positive as they approach retirement!
Raising Wages Pays Dividends!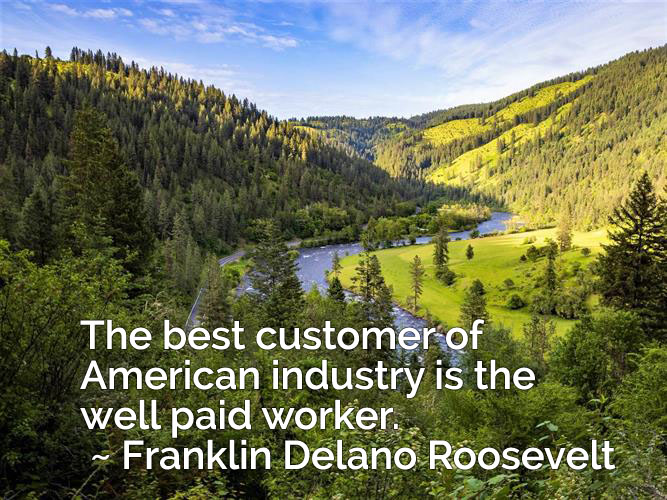 ~ as true today as it was then.