Jeff – Working his way back into a home
Jeff worked hard all his life, and now he makes $11/hr — more than he's ever made — and it's still hard to make ends meet. He can't imagine getting by on $7.25 / hr — Idaho must raise its minimum wage so hardworking people like Jeff can support themselves and their families. Read Jeff's story
"I make $11 an hour. To be honest, I have never made that much money in my life," says Jeff about his job as Food Distribution Manager at Interfaith Sanctuary in Boise. His work history includes folding laundry ($7.50 / hr), janitorial ($8.00 / hr) and window manufacturing ($10.75 / hr ). Jeff admits the window manufacturing was a good job, but, "I ended up screwing that up." Conflicts with a roommate forced Jeff to leave his housing arrangement. Jeff has lived at Interfaith Sanctuary since 2019.
Jeff saves as much money as possible with his part-time job. He hopes to save $7,000 by the time his position ends. He would like to work in a restaurant, live on his own and give back to the community. That dream isn't easy to achieve, even with the support of subsidized housing.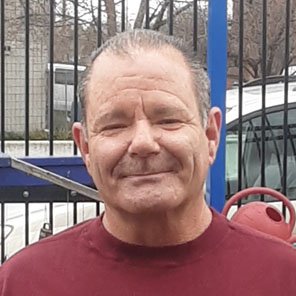 Jeff's Independent Living Budget:
Communal Housing
Subsidized 1 bedroom apt
Ongoing monthly expenses
$128
$128
Housing*
$500
$800
Food
$300
$300
Transportation**
$20
$20
Payroll Taxes (estimate)
$120
$200
Total Monthly Expenses
$1,068
$1,448
Needed monthly income to move from Interfaith Sanctuary*
$1,667
$2,667
Equivalent fulltime hourly salary (assumes 160 hrs / mo):
$10
$17
*Housing requires 30% of income be paid as rent
** Transportation costs low as Jeff only has a bicycle
Jeff's situation represents the reality of anyone starting from scratch, regardless of their age. Low wages make it nearly impossible to live independently. Entry-level wages in the food service industry range from $8.50 to $12.50 per hour. The communal living option is within reach as long as Jeff can find a fulltime job!
We can do better, Idaho. Idahoans for a Fair Wage will be his first customers when he gets a restaurant job.